Windsor-Essex 'Construction Academy' pioneer wins Canadian teaching award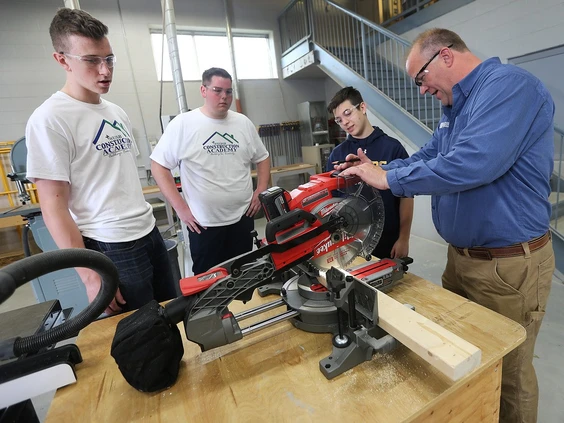 In this April 19, 2017, file photo, students with the Windsor-Essex Catholic District School Board's Construction Academy at St. Joseph's Catholic High School in Windsor gather around teacher Cory McAiney to learn about the skills needed to work in various trade industries. PHOTO BY DAN JANISSE /Windsor Star
It's no longer just the captains of industry and education leaders beating a path to Cory McAiney's doorstep in Windsor.
The skilled-trades guru of the Windsor-Essex County Catholic District School Board has now also been recognized by the prime minister — a former teacher himself — as a top educator for his innovative work in helping address the increasingly dire national shortage of skilled workers.
"I'm still a little shocked," Cory McAiney told the Star upon learning he was among a batch of 13 educators from across Canada receiving Prime Minister Award certificates of achievement for teaching excellence in STEM (science, technology, engineering, math) academic fields.Specifically, McAiney is being honoured nationally as a pioneer in creating and growing the local separate school board's Construction Academy, part of the Ontario Youth Apprenticeship Program and designed to give local high school graduates strong career starts.

The Academy, which only just opened an expanded hands-on learning centre inside the former St. Anne high school in Tecumseh, has elevated a high school technology program to trade school status, partnering with employers and suppliers, unions, college and provincial ministries. It's a one-stop shop for students registering for apprenticeships in carpentry, plumbing, masonry, electrical and more.

"It's such an honour, of course, but there are so many great tech studies teachers here — I'm just one," said McAiney, currently the board's curriculum consultant for technological studies, Pathways and the Ontario Youth Apprenticeship Program (OYAP).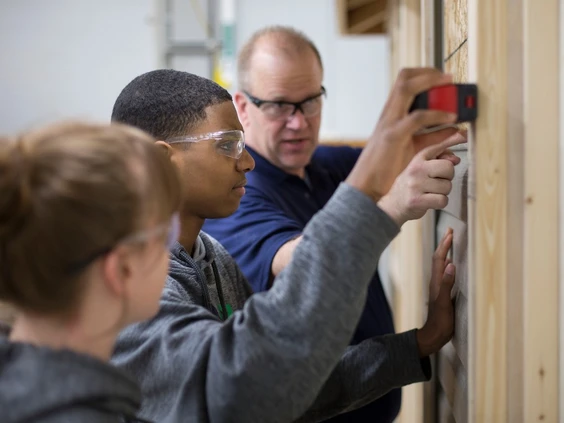 Grade 11 students receive instruction from Cory McAiney on installing vinyl siding on a project house at the Construction Academy based out of St. Joseph's Catholic High School, on April 11, 2018. PHOTO BY DAX MELMER /Windsor Star
The awards were announced on World Teachers' Day, Oct. 5. McAiney and his award will be formally recognized by the board at its Oct. 24 meeting."Cory's enthusiasm and passion for teaching and leadership is demonstrated on a daily basis," director of education Emelda Byrne said in a statement, adding: "He leads with confidence and is able to inspire others to follow."

The genesis for the Construction Academy came in 2015 when McAiney — a red seal-certified carpenter with industry experience — was a construction teacher at St. Joseph's high school. His high school, with carpentry, and F.J. Brennan with its masonry program decided to take high school teaching in skilled trades to the next level.

The resulting "winning formula," he said, is fast gaining attention and now referred to across the province as the 'Windsor-Essex Model.' Just in the last year, said McAiney, 14 different school boards sent representatives to Windsor and Essex County to see how they could emulate what's being done here, and he said more such delegations will be visiting in the coming weeks.
Graduates of the program are being snapped up at such a pace that disappointed potential employers have been turned away when there's nobody left to lure into their workplaces. The Construction Academy prepares young adults for the skilled trades sector not only with hands-on experience — including blueprint reading, math and design, materials ordering and costing — but by also providing them with team-building, problem-solving and communication skills."It's what employers are looking for. We want them well-versed — it makes them invaluable," said McAiney. He said students and their parents are becoming increasingly comfortable with an "apprenticeship pathway" to pursuing a career, versus college or university.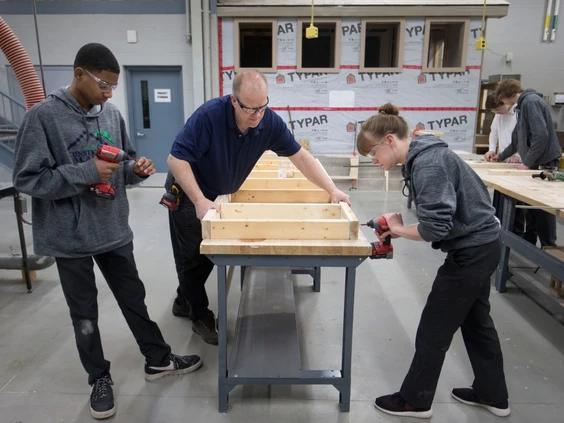 Grade 11 students Maggie MacDonald, right, and Jovaun Cooley get instruction from Cory McAiney on April 11, 2018, as they practice constructing a knee wall for an upcoming Habitat for Humanity home while at the Construction Academy based out of St. Joseph's Catholic High School. PHOTO BY DAX MELMER /Windsor Star
To get more women to follow that pathway, McAiney also advocated for an all-female Grade 9 technical class to make female students feel more comfortable and safe in what remains a male-dominated field. That push was also cited by the national award-givers.Population growth is a big driver of skilled trades demand, and Windsor-Essex, Ontario and Canada's populations are growing, at a time when the province and country are short millions of homes. A recent report also stated a third of Ontario workers in the skilled trades fields are 55 and older.
Two per cent or less of Grade 12 high school graduates in Ontario and across Canada are registering in skilled trades apprenticeship programs, but McAiney said that figure is about six per cent within the local Catholic board. And that's one of the reasons why its Construction Academy is garnering interest from outside the region, including from the provincial government.Even at the early apprenticeship stage, McAiney said his graduates are in high demand and making good incomes.

Last year, the local Catholic school board's skilled trades programs had 295 OYAP participants (those at the initial stages of apprenticeships) and 118 OYAP registrants (those signed up for apprenticeships).

"We challenge our students and make them well-rounded," said McAiney. "This is a winning formula — we've really upped the game."