APPRENTICESHIP TRAINING AND RED SEAL CERTIFICATION FOR CEMENT FINISHER
This program is a partnership with the Labourers' Local 625 Training Trust and the Government of Ontario.
Introduction
To achieve Cement Finisher (CCF) certification, students will participate in a rigorous Apprenticeship Program over a period of twenty-eight months with the emphasis on health and safety, theoretical knowledge, craftsmanship, diverse skills training and in-field training alongside contractors and LIUNA Members. Graduates will be in high demand for employment with signatory contractors who are industry leaders in building world-class infrastructure and buildings.
Our training programs, state-of-the-art facilities and senior-level training team are highly regarded by partners such as the Government of Ontario, Ontario College of Trades, Ministry of Training, Colleges and Universities (MTCU), the Industrial, Commercial, Institutional sector (ICI), Heavy Construction Association, Windsor Construction Association and Workforce Windsor-Essex.

This Employment Ontario program is funded in part by the Government
of Canada and the Government of Ontario.
APPRENTICESHIP PROGRAM
DURATION: 28 Months
16 Weeks: Full-Time, In-School
24 Months: On-The-Job Work Placement
Tuition costs are covered
In-school portion of the program is NOT eligible for Employment Insurance
Students are responsible for all Personal living expenses during the program
Minimum 18 years of age
Valid Ontario Driver's License (G or G2)
Grade 10 Education (Transcripts Required)
Work Experience (Construction experience a definite asset)
Eagerness to develop new skills and show initiative
Physically fit & able to work outdoors year-round
Excellent communication and listening skills
Ability to work as a team member and/or independently
A strong work ethic and positive attitude
Well-organized. Punctual. Reliable
Qualified applicants will be scheduled for the Math/Literacy
Top scorers will be invited back for a One-on-One interview.
Finalists will be selected and contacted for a practical assessment.
Hours of training may vary due to weather or type of project to be completed such as placing and finishing concrete. When possible, students will be advised in advance of any such change in hours.
Students are encouraged to come prepared each day for both in-class training and practical training held in a workshop setting and/or outdoors in various weather conditions (rain, cold, heat, etc.).
Students are encouraged to arrive each day with a suitable lunch.
Students will be provided with a CSA approved hard hat, safety boots, tools, and other personal protective equipment. You MUST have these items at all times during training.
Students MUST become familiar with, and abide by, the Safety and Attendance Policy.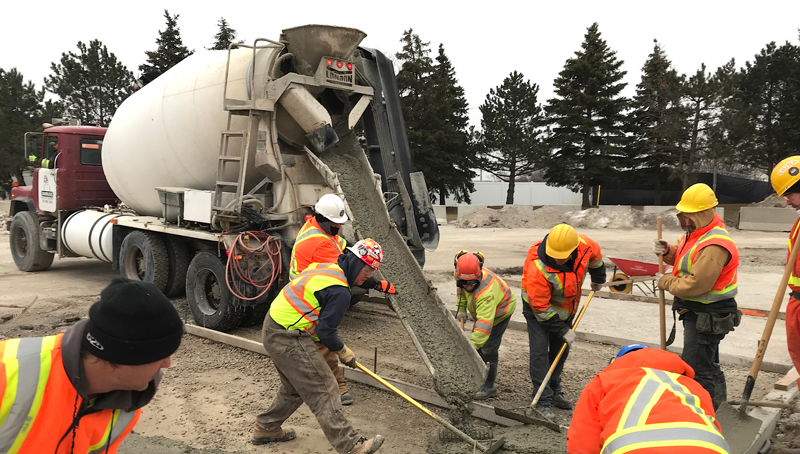 IF YOU MEET ALL MANDATORY REQUIREMENTS
APPLY NOW FOR APPRENTICESHIP TRAINING
Note: You will be required to upload legible copies of the following:
Explain how you will support yourself during the full 16 weeks of in-school training
A brief outline of your work history
List any skills you have gained related to trades or construction work
Resume if available
O.S.S.D. Grade 10 (or higher) Transcript
G or G2 valid Driver's License
CEMENT FINISHER APPRENTICESHIP
CF Level I
8  Weeks: Training
24 Months: On-Site Work Placement
Curriculum
History and Scope of Cement (Concrete) Finisher Trade
Communications and Presentation
Trade Calculations and Quantities
Pictorial Drawings and Layout Tools
Construction Safety
Hand Tools
Power Tools and Equipment
Concrete Technology
Site Presentation
CF Level II
8  Weeks: Training
1 Week: Red Seal Review
Curriculum
Place and Level Concrete
Finish Concrete
Concrete Curing and Protection
Cut Concrete
Repair and Resurface Concrete
Specialty Concrete
Architectural Finishes
Introduction to Epoxy Systems
RED SEAL CERTIFICATION
To achieve Red Seal Certification graduates must achieve a 70% grade in all curriculum reportable subjects.
Click here to learn more about Red Seal and sample test questions.