Federal budget 2023 includes 'huge' benefits for Windsor-Essex: Kusmierczyk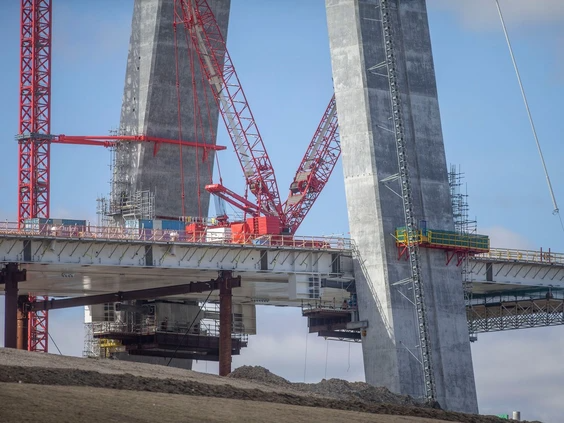 Local MPs see major benefits for the local economy with this year's federal budget, including a boost to the automotive sector. Shown here is construction underway on the NextStar Energy project in Windsor on Wednesday, March 29, 2023. PHOTO BY DAX MELMER /Windsor Star
Local politicians say there's plenty to benefit Windsor-Essex County with the federal government's release on Tuesday of it's 2023 budget which includes $59.5 billion in new spending over the next five years.
"I can honestly say that this is the most important budget for Windsor-Essex that we've seen in generations," said MP Irek Kusmierczyk (L—Windsor-Tecumseh).Kusmierczyk said the region is at "the heart of this budget" because of investments in the clean economy, with reference in the budget to a clean-tech manufacturing tax credit.The new incentive will give companies a 30 per cent refundable tax credit for qualifying investments, which are tied to paying "prevailing labour wages" as well has having 10 per cent of worker hours on any project provided by apprentices.Kusmierczyk said the government's roughly $20 billion in incentives over five years will protect the projects announced over the last year, including the NextStar e-battery plant in Windsor and Stellantis's EV manufacturing investment at its Windsor Assembly Plant.
"It anchors down, it bolts down to the ground those two key critical investments for our community and the 5,000 jobs that come with it," he said, adding it also "sets the table" for further investment in auto manufacturing."It gives companies clarity in terms of what types of support they are going to get," said Kusmierczyk. "This is huge for our community because, again, it protects existing investment … (and) sets the table for future investment," he said."But it also looks after and supports workers, and I would say union workers, in our community. It really positions us to not only be leaders in the transition to a clean, green economy but it really positions us for generations of prosperity."Fellow MP Brian Masse (NDP—Windsor West) said expansion of national dental care coverage and other affordability measures in Tuesday's budget are "significant" and relate to the needs of Windsor and Essex County residents.
"Because we have so much child poverty and other poverty, people in the lower income sphere, that this is huge and it's part of the reason why we've been pushing so hard for this," Masse said."The expansion to include seniors, persons with disabilities and some other age groups is significant."As well as the fact that we're actually going to at least have a one-time GST (rebate) increase for groceries or cost of living, whatever you want to put it towards, is important right now," Masse added.He said he would have preferred it to be a permanent improvement but said that in the past it often took a couple tries to make a rebate permanent.

In addition, Masse was happy to see further regulations on fees on credit cards, wireless roaming, events and concerts.
"A lot of work needs to be done on those but I have a high degree of interest because I've been trying to get at these rip-offs for a long time," he said.Asked what he was disappointed not to see in the budget, Masse pointed to pharmacare."I would have loved to have seen pharmacare in there," he said. "And also an excess profit (or) windfall tax."That's where I'd like to (see) diversion and more balance to other small, medium size businesses and, as well, more accountability and more consumer protection."

Kusmierczyk was disappointed to not see a national school nutritional program included in the budget, something he said he has advocated for over the last three years.

"Some of the highest child poverty rates in Canada are in Windsor," Kusmierczyk said.
"There's no reason why any child in our community should be going to school hungry."MP Chris Lewis (C—Essex) criticized the budget, saying it does nothing to help workers or families with rising costs or a lack of affordable housing."Conservatives cannot support Budget 2023," Lewis said. "This budget will add an additional $4,600 in taxes for Canadian families."Instead of listening to Canadians, Liberals are continuing with their war on work and increasing taxes which means workers are punished for working and take home even less of their paycheques," he said.

"I want to see less taxes and more in Canadian's pockets."

Lewis said the grocery rebate is less that half of what the average family will pay in carbon tax this year.
He also criticized the government for not "removing gatekeepers, freeing up land and speeding up building permits and withholding federal funding from cities that refuse to remove gatekeepers" in an effort to get more housing built.Finance Minister Chrystia Freeland's budget, tabled in the House of Commons, has three main focuses: the clean economic transition, health care and cost-of-living relief.To help finance these priorities, the Liberals are promising to find $9.8 billion of savings within the public service. They are also introducing a range of tax measures, including ones aimed at wealthier individuals and corporations that together would increase revenues by $11.7 billion.At a time of high inflation and a slowing economy, Freeland had promised fiscal restraint and reiterated that commitment Tuesday.
"Our country has a proud tradition of fiscal responsibility. That is a tradition we are determined to uphold," Freeland told the House of Commons during her presentation of this year's budget.The federal deficit is projected to decrease to $14 billion by 2027-28, from $43 billion, while the debt-to-GDP ratio is expected to rise slightly in the coming year before falling to 39.9 per cent in 2027-28, down from 42.4 per cent. The federal government's fiscal decisions are supposed to be guided by its fiscal anchor, which is a declining debt-to-GDP ratio in the medium term.Jimmy Jean, chief economist with Desjardins Group, said the budget shows the federal government is trying to "strike a balance" to not fuel the flames of inflation.
The host of affordability measures, which includes an additional boost to the GST rebate, are considered to be relatively modest."But at the same time you're not seeing the deficit close by the end of the projection (period)," Jean said.Rebekah Young, director of fiscal and provincial economics at Scotiabank, said she didn't find the budget to be fiscally restrained. Given the uncertainty in the economic outlook, Young said the federal government could have limited spending to "the bare bones."On affordability, Young said the measures don't address housing, which poses a major cost-of-living challenge that's not going to go away when inflation eases, and that some of the money could have been better spent elsewhere.
"There are areas where they could use some of this funding to increase the supply of social housing or the public provision of actual housing," Young said, adding that this approach would have gone further than simply addressing short-term inflation pressures.To alleviate the pressure of rising grocery prices, the federal government has extended the GST rebate boost offered in the fall. The rebate, which will go to lower-income Canadians, will deliver up to $234 to a single person and up to $467 to a couple with two children.