Energy solutions spark enthusiasm from city council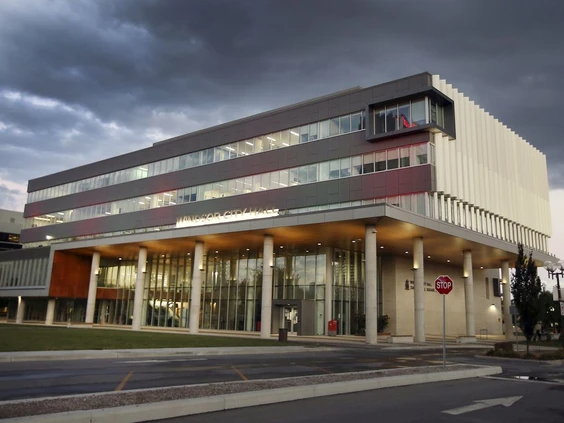 Windsor City Hall is shown on Sept. 15, 2021. PHOTO BY DAN JANISSE /Windsor Star
A consultant's report on Windsor's fast-growing electricity needs and its list of suggestions to help the city prepare for future investments energized council chambers Monday evening.
Following a lengthy discussion about Windsor's power options and how best to secure them, council voted unanimously to establish the city as a willing host for energy projects. It also agreed to support five proposed electricity transmission lines west of London, and to support the Independent Electrical System Operator's efforts to re-contract the generator at Brighton Beach.
"It's exciting, especially when we're talking about innovation and where we're going with power generation," said Ward 1 Coun. Fred Francis. "We live in a big world that's never been as small as it is today, especially when we're talking about power, infrastructure, (and) innovation in the grid moving forward."
Although power generation and the types of energy storage projects approved in Canada fall under provincial jurisdiction, Travis Lusney of Power Advisory LLC told council that municipalities still play a "critical role" in deciding where new electricity resources go.
"At the end of the day, meeting the provincial need means having partnerships and involvement with local communities, of which municipalities are the face and the planning and permitting process for this," said Lusney, the hired consultant's director of power systems.
While the need for more power in Windsor-Essex is "not at the point of red alert," Lusney said the electricity sector needs investment to support economic growth and climate change policies.
Representatives from two power companies appeared before council as delegates on the issue to share their plans for expansion. Geoff Saunders, plant manager of Brighton Beach Generating Station, said parent company Atura Power is submitting a proposal to the IESO to add a 250-megawatt battery energy storage facility at the Windsor location. The battery storage would help overcome supply constraints and reduce carbon dioxide emissions by up to 104,000 tonnes annually.
Kelly Lail, vice president of Capital Power, said his company wants to add capacity to its east Windsor cogeneration facility in Ford City by expanding existing operations and adding battery storage to the land. The battery storage would be able to meet the needs of 40,000 homes.
For the project, Lail said, Capital Power will be seeking an expression of council's support.
Monday's discussion and council's support for Power Advisory's recommendations came in response to a desire at city hall to understand Windsor's energy needs ahead of the many investments expected to follow the NextStar Energy Inc. battery plant.
The province in April announced a potential $1 billion investment to fast-track the building of five new transmission lines west of London to address an unprecedented growth in demand for power in Essex and Kent Counties over the next five years. They include a 230-kilovolt line from Chatham to a new station in Lakeshore; a 230-kilovolt transmission line from Lambton to Chatham; two 500-kilovolt lines from Longwood (west of London) to Lakeshore; and a new 230-kilovolt line from Lakeshore to Windsor.
The anticipated completion dates for the projects range from 2024 to 2030. Even with the planned expansion, the IESO has forecasted a need for more local resources to support growing demand.
Local electricity demand is expected to more than double in the next decade.
"I think that future councils will have some incredible opportunities to make some very important changes to our energy supply capacity in the region while also addressing climate change," said Ward 9 Coun. Kieran McKenzie.
"We have our climate change documents, we have the Community Energy Plan, and we have a very significant short-, medium-, and long-term energy need issue that we need to address."