Architecture firm hired to design new Windsor-Essex hospital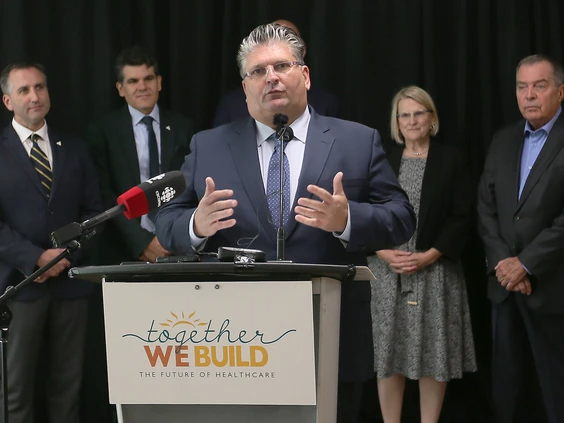 Windsor Regional Hospital Chief Executive Officer David Musyj speaks during a press conference on Tuesday, September 27, 2022 at the WFCU Centre in Windsor. PHOTO BY DAN JANISSE /Windsor Star
The residents of Windsor-Essex should get a glimpse of what their new regional acute care hospital will look like by early next year.
CEO David Musyj said Tuesday that the hospital has hired Stantec Architecture, a global design firm, as the planning, design and conformance consultant for stage two of the project.
The company's team of architects and engineers will work with dozens of user groups including community members to design what the new hospital will look like. Musyj said Stantec is expected to submit final stage two plans to the province by March 2023.
This is a lot of work and a lot of detailed work in a complicated project.
"It's going to be function driving form, other than the other way around," he said. "They're going to be working in parallel. So it's pretty exciting. Now we're going to start seeing possibly some drawings come out — give it a little time — with respect to what the new hospital is really going to look like."
"They're going to be the team that's going to be working with us to make sure we design a hospital that can fit the function that we've come up with regarding the programs and services."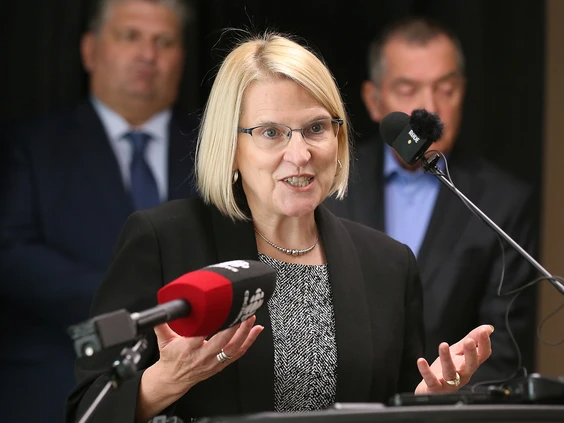 Ontario Deputy Premier and Minister of Health Sylvia Jones speaks during a press conference on Tuesday, September 27, 2022 at the WFCU Centre in Windsor. PHOTO BY DAN JANISSE /Windsor Star
Musyj made the announcement Tuesday at the WFCU Centre during a media conference with Ontario health minister and Deputy Premier Sylvia Jones.
"I was asked by Premier Ford to deliver a very clear message to the people of Windsor-Essex, and that is we will not delay your acute care hospital," said Jones. "We want to see this built and we want to see this project completed.
"We're here, we're a partner and we will make sure that this project gets to completion."
Windsor-Tecumseh MPP Andrew Dowie along with Dave Cooke, former Windsor-Riverside MPP and co-chair of the project steering committee, and Windsor Mayor Drew Dilkens also attended the media conference.
"The pandemic has exposed the frailty in every system worldwide, including the healthcare system," said Dilkens. "We have seen the need for new and modern hospital infrastructure. We have seen the need and we all collectively understand the benefit, during a pandemic or at other times, of private rooms where people can isolate. We know that provides for better outcomes in care when families can be with them in private rooms as opposed to five patients in a ward with a bathroom down the hall."
The province announced $9.8 million in funding for Phase 2 of the project — the detailed planning stage — in October 2021. A crucial step in that phase was hiring a planning and design consultant. Stantec's fee, which comes out of the $9.8 million, has not been made public.
The company, which recently worked on projects including the new Cortellucci Vaughn Hospital and the Oakville Trafalgar Memorial Hospital, will begin immediately on block schematic drawings for the Windsor facility.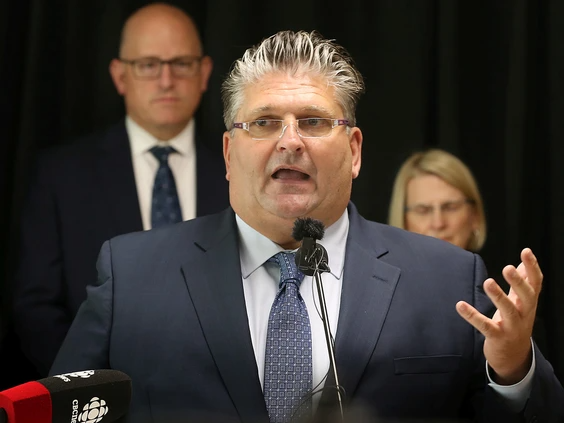 Windsor Regional Hospital Chief Executive Officer David Musyj speaks during a press conference on Tuesday, September 27, 2022 at the WFCU Centre in Windsor. PHOTO BY DAN JANISSE /Windsor Star
The drawings will outline how all rooms, departments and services can be organized in the hospital. The goal is to submit the drawings, functional program and early cost estimates to the province for approval by March. More detailed project planning will follow.
Stantec will work with 39 user groups — made up of hospital leadership and staff, patients and other community representatives — to create design plans and program requirements for the new hospital.
The company will also help develop documents required for the tendering process, including detailed department layouts, master site and building plans, and design and performance requirements for potential bidders.
Stantec will remain on the project during the construction phase to ensure the requirements are adhered to.
"They're going to be with us from the start to the finish of this project in making sure the words we come up with can be designed," said Musyj.
The construction project is scheduled to go to tender in 2025 with shovels in the ground by 2027. Construction of the regional hospital will cost an estimated $2 billion.
"This is a lot of work and a lot of detailed work in a complicated project," said Musyj. "We're not designing someone's deck in their backyard, which is complicated enough. It's a brand new hospital with a lot of infrastructure issues and powerhouse issues, etc. But it's exciting because it's actually happening."