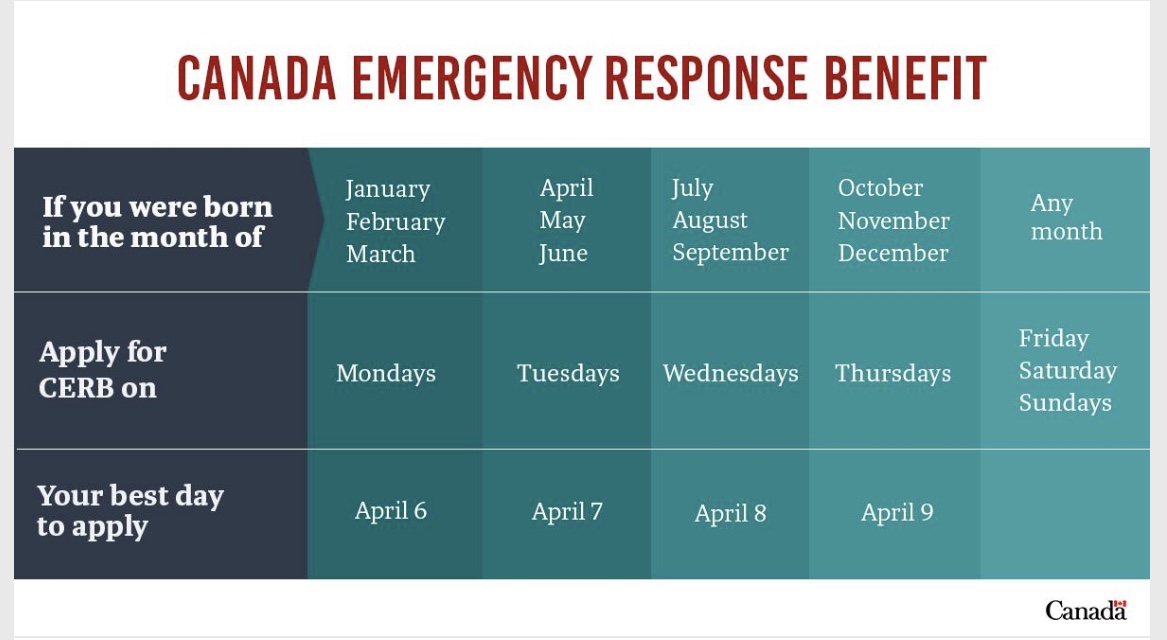 What is the Canada Emergency Response Benefit
If you have stopped working because of COVID-19, the Canada Emergency Response Benefit (CERB) may provide you with temporary income support. The CERB provides $500 a week for up to 16 weeks.
Who is eligible
The benefit will be available to workers:
Residing in Canada, who are at least 15 years old;
Who have stopped working because of COVID-19 and have not voluntarily quit their job or are eligible for EI regular or sickness benefits;
Who had income of at least $5,000 in 2019 or in the 12 months prior to the date of their application; and
Who are or expect to be without employment or self-employment income for at least 14 consecutive days in the initial four-week period. For subsequent benefit periods, they expect to have no employment or self-employment income.
How to apply
To deliver payments to Canadians in a fast and easy way, the CERB is being jointly delivered by Service Canada and the Canada Revenue Agency.
To begin the application process, please answer a few simple questions. The answers you provide will help us direct you to the service option that best fits your situation.

FOR IMMEDIATE RELEASE
March 17, 2020
Brothers and Sisters,
An Important Message Regarding The Coronavirus
As you are aware, the federal government announced yesterday that effective immediately, borders across Canada will be closed to International visitors in order to combat the spread of coronavirus (COVID 19). And today, the Ontario provincial government has announced a state of emergency in the province that bans organized public events of more than 50 people and compels bars and restaurants to close in order to curb the spread of the virus.
We have been in constant contact with our LIUNA counterparts across North America while they monitor the situation closely and will continue to do so over the next few weeks and in the coming months.
As a result of our discussions, and recommendations by LIUNA Headquarters in Washington, as well as consultations with LIUNA' s Ontario Locals and the advice of LIUNA' s Senior Council, LIUNA 625 has implemented the following temporary measures at your home local:
Effective immediately, LIUNA 625 doors will remain closed until further notice. All LIUNA 625 staff, business representatives and organizers will continue to work as normal. All regular business hours will continue uninterrupted with the exception that the building at 2155 Fasan Drive will be closed until further notice.
These measures have been implemented in order to promote the health and safety of each and every LIUNA 625 Member, their families and your office staff.
Please note, that any and all Union business including benefits, pensions, dispatching and or work-related issues will be handled with the same promptness you have become accustomed to. Both your office staff and Business Representatives will be available to answer your calls and address issues you may have.
We are experiencing unprecedented times because of the coronavirus and are faced with difficult decisions. I can assure you at LIUNA 625, our number one priority is the health and well-being of our Members, their families and our staff.
I would like to express my sincere gratitude to all Brothers and Sisters for your patience and understanding and to thank our entire office team for their dedication and commitment to continue to service each and every Member without interruption.
Rest assured, we are monitoring the coronavirus situation daily and will advise Members of any changes that may affect our regular services or schedules as promptly as possible.
Be kind to each other and assist those around you that may be vulnerable.
Be safe. Stay healthy.
In Solidarity,

Rob Petroni
Business Manager
LiUNA!625

Coronavirus (COVID-19) Updates

SAFETY PHONE LINE
Construction workers now have a dedicated health and safety phone line to report unsafe conditions on the job site due to #COVID-19 to the Ministry of Labour.
Call 1.877.202.0008
Stay Connected!
Sign up for Dig It!
LiUNA!625 Member's E-News and Alerts sent right to your mail box and phone.
YOU MUST BE A MEMBER TO SIGN-UP.
We respect your privacy