Drawings, details of new hospital revealed during virtual town hall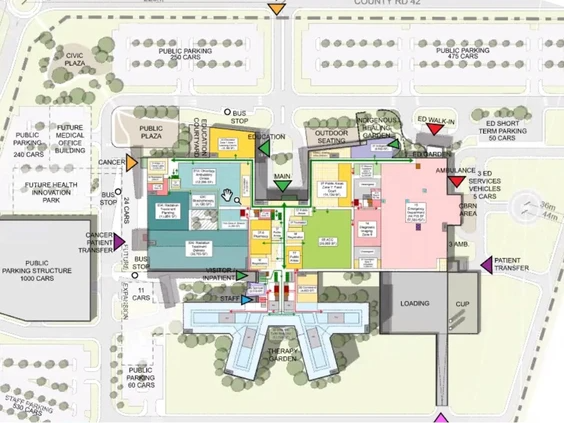 Draft plans for a new acute care hospital in Windsor are seen during a virtual town hall on Tuesday, March 7, 2023. Windsor Star
The planned size of Essex County's massive new acute care hospital — boasting all private rooms — has increased to about 2-million square feet.
"To put that into perspective, Met and Ouellette campuses combined are about 1.3 million square feet," said David Musyj, CEO of Windsor Regional Hospital.
"It's not big for the sake of being big. You have to remember, we're going to all private rooms, so that increases the size. We have better storage space on the floors, because we have no storage space now."
The new size estimation was one of many details that came out of a virtual town hall on Tuesday to update the public on the project's progress. A second virtual town hall, in French, will take place Thursday at 7 p.m.
Construction of the new regional hospital on County Road 42 is expected to begin in the summer of 2026. The work will take about four years, at an estimated cost of $2 billion.
The plan for the last decade was that the new facility would be about 1.6-million square feet.
One reason for the size increase is that the hospital will have 100 per cent private rooms — with space for the patient's loved ones to sleep —  including pediatrics and the neonatal intensive care unit.
The expectation earlier in the process was that the hospital would have 80 per cent private rooms.
Musyj said having all private rooms should mean the end of patients being shuffled around the hospital. He said the current shared room model means patients sometimes have to be moved as the hospital tries to keep various populations grouped together, such as men, women, or people with community acquired infections.
"Once we go to all private, it's really simple," said Musyj. "You go to that room. It's your room for the length of it, short of you moving departments because you went from ICU to general medicine."
Town hall viewers on Tuesday also had a first look at initial drawings of what the new hospital is expected to look like. They are still only block diagrams, but they do provide a campus plan that shows how the hospital will likely be positioned on the property with entrances and parking.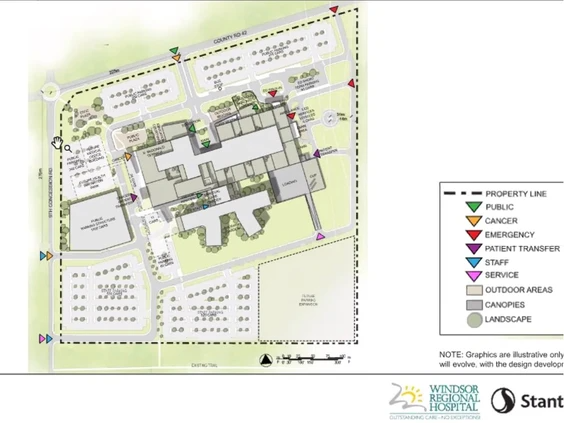 Draft plans for a new acute care hospital in Windsor are seen during a virtual town hall on Tuesday, March 7, 2023. Windsor Star
The vertical and horizontal drawings also show where all the programs and services will be placed.
There will be a separate waiting and treatment area in the emergency department for children. The same will go for people with mental health issues and urgent care needs.
After extensive consultation with First Nations communities, there will also be an Indigenous healing space located prominently at the front of the building. It will be available for ceremonies such as smudging and cedar baths or meetings with family, caregivers, and other support people.
The area will include access to an outdoor healing garden, and storage room for traditional medicine supplies.
Musyj stressed the drawings are still drafts, so changes to the layout and hospital size are possible after user group feedback, negotiations with the province, and input from the general contractor.
He said a main takeaway from the block drawings should be that planners have tried to provide the easiest possible access to whatever program or patient a person is visiting. There will be parking and drop off points close to all departments.
People looking for the diagnostic imaging department won't have to follow a maze of hallways, stairways, and colour-coded lines to get there. Patients going to the cancer centre will be able park or get dropped off right near its entrance.
"The way we're built now, you've pretty much got to walk through the whole hospital to get anywhere," said Musyj. "That's what this is going to avoid. It's going to be laid out in such a way that people will have much easier access to the place they have to get to and leave from."
The project management team will submit the early concept plans including block drawings to the Ministry of Health in April, seeking approval to immediately move on to the next step.
"The next stage is when we get into the detailed drawings where you go into a floor and start breaking down room by room what it looks like," said Musyj. "We could be into the detailed drawings as early as this summer."