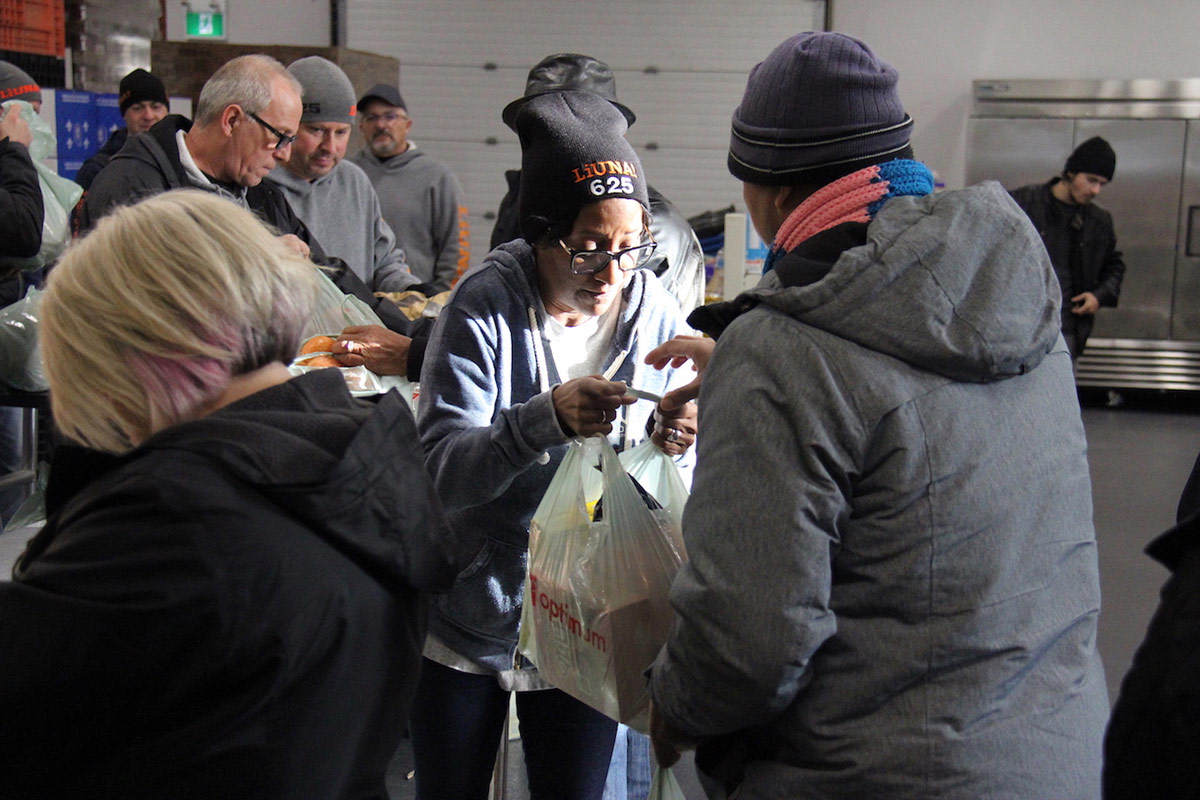 Wednesday, Dec. 18, 2019 – 'Tis the season! This holiday season, the generosity from our partners are tremendous. We as an organization, couldn't be more grateful for their kind gestures.
To begin, members of LiUNA!625 Labourers' International Union of North America, will be present on Thursday, Dec. 19th, at 10:30 a.m. to distribute approximately 150 Turkey's along with potatoes, stuffing, carrots, fruit and dessert to individuals and families in our community who would have otherwise had to do without a holiday dinner.
Over 48,808 individuals benefitted from emergency food baskets through the Unemployed Help Centre's Unifor Local 200 People's Choice Pantry. With the use of food banks steadily increasing, donations from groups like LiUNA!625 make a big difference in the lives of food bank clients.
"This group is amazing," said June Muir, CEO of the UHC. These folks genuinely understand the need that still exists in our community and care about those who are in the greatest need at this time of the year."
Along with Turkey Giveaways, Caesars Windsor, St. Clair College, & S'aints Band will be present for a cheque presentation at 11:30 a.m. at the Unemployed Help Centre's Food Bank.
For the sixth straight year, the fundraising concert has donated ticket sale proceeds to local charities now raising over $340,000 to help feed those in need since 2013. This year, due to the success of ticket sales, more families and individuals will be fed through the Windsor Essex Food Bank Association and Chatham Outreach for Hunger. The all ages Sleighing Hunger holiday show is scheduled for Friday, Dec. 20 at 8 p.m. at the Colosseum at Caesars Windsor.
This donation will allow the WEFBA to purchase many items in bulk, that is difficult to come by for those using food banks. There will be guest speakers at the presentation:
Patti France, President, St. Clair College
Mary Riley, Vice-President Marketing, Caesars Windsor
Jeff Burrows, The S'Aints
Brenda LeClair, Executive Director, Chatham Outreach for Hunger
June Muir, President, Windsor Essex Food Bank Association
"Once again our partners with The S'Aints, Caesars Windsor and St. Clair College have outdone themselves in supporting the Windsor Essex Food Bank Association. We are able to reach so many families in need of food assistance because of the generosity of the community and from incredible donations like the one we've just received. This gift will help to ensure our 15 member food banks are able to feed the most vulnerable in our community for the holiday season and beyond." said, June Muir CEO of the Unemployed Help Centre.
Both events will take place on Thursday, Dec. 19. The Turkey Giveaways will start at 10:30 a.m. located at the Unifor Local 200 People's Choice Pantry & Caesars Windsor Cheque Presentation at 11:30 a.m. at UHC's Unifor Local 200 People's Choice Pantry located at 6955 Cantelon Dr.
Please contact Lynda Davidson, Food Bank Manager for Turkey Giveaway Inquiries at 519.944.4900 ext. 132. For WEFBA & Cheque Presentation June Muir, CEO of UHC 519.944.4900 ext. 133. For questions related to Sleighing Hunger, Susanne Tomkins, Manager of PR and Communications, Caesars Windsor 1.800.991.7777 ext. 22896, stomkins@caesarswindsor.com & John Fairley, Vice President, Communications and Community Relations, St. Clair College 519-972-2762, jfairley@stclaircollege.ca