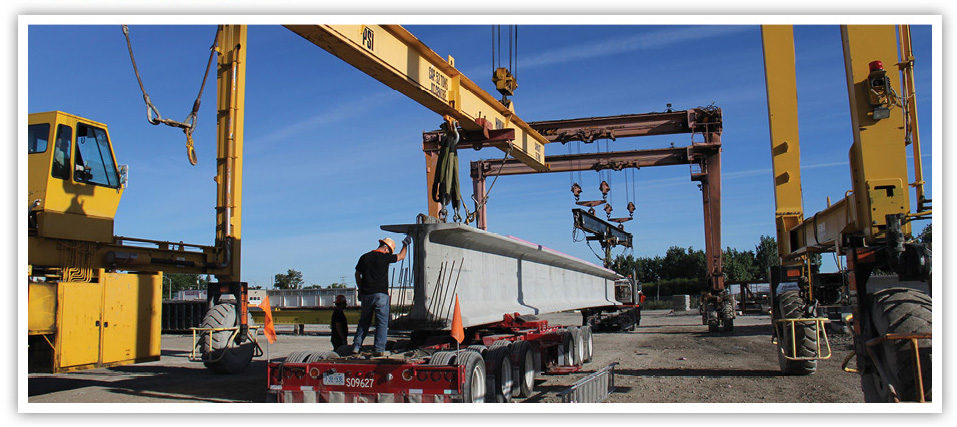 Prestressed Systems Inc. was co-founded in 1975 by Rigo Collavino (1926 – 2013) and his brother Mario, in Windsor, Ontario.
The company's initial focus was on the manufacture and installation of hollowcore floor and roof slabs for the Ontario and Michigan construction markets.
The company now has production facilities in Windsor, Ontario (Prestressed Systems Inc.), and River Rouge, Michigan (International Precast Solutions), serving Ontario to Kentucky and Indiana to New York.
Total number of employees: over 300
LIUNA members on Windsor production team, and Ontario erection crews
Approximate metres of concrete poured in 2013: 38,180 cubic metres
Projects include infrastructure (bridges, tunnels), commercial/institutional buildings (hospitals, apartment buildings, detention facilities, hotels, retail outlets, schools), private residences, seniors' residences, arenas and recreational facilities, and parking structures.
Products include hollowcore slabs, girders, box beams, deck panels, beams, columns, bleachers, double tees, and architectural precast.
Rigo's son, Loris currently serves as the C.E.O. of a strong and dedicated team, which has been instrumental in the growth of the company into a full-service precast manufacturing organization.
The Prestressed Group is a proven national leader in the manufacture and installation of prestressed/precast concrete solutions.
Notable recent and current projects include Toronto South Detention Centre (Toronto, Ontario), Rt. Hon. Herb Gray Parkway (Windsor, Ontario) Barclays Center (Brooklyn, New York), Nationwide Children's Hospital (Columbus, Ohio), Greektown Casino Parking Structure (Detroit, Michigan).