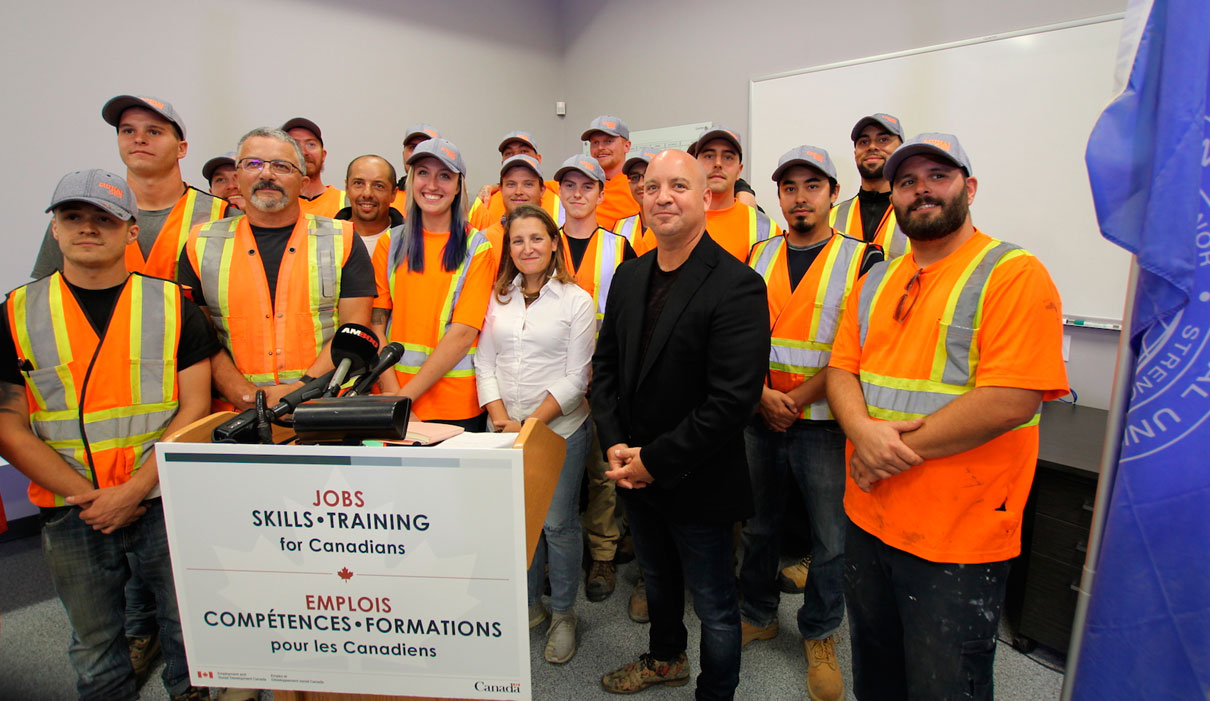 September 9, 2019 – Giving every Canadian a real and fair chance at success means helping them get the skills and training they need to succeed in a changing economy. The skilled trades are good, well-paying, middle-class jobs, and the Government of Canada is committed to supporting key groups, such as women, Indigenous people, newcomers and persons with disabilities, to work in the skilled trades through funding for projects led by unions and other organizations.
That is why today, the Honourable Chrystia Freeland, Minister of Foreign Affairs, on behalf of the Honourable Patty Hajdu, Minister of Employment, Workforce Development and Labour, announced that the Government of Canada is providing close to $213,000 to Labourers Local 625 Training Trust for two projects that will support 990 apprentices. Both projects are funded under the Investment in Training Equipment Stream of the Union Training and Innovation Program.|
The Government is investing $25 million annually in support of the Union Training and Innovation Program through two streams:
Stream 1: Investments in Training Equipment Stream
Stream 2: Innovation in Apprenticeship Stream
Projects help unions across Canada improve the quality of training through investments in up-to-date training equipment and materials, and support innovation and enhanced partnerships to address long-standing challenges that limit apprenticeship outcomes in Canada. As a result of this investment, more apprentices will be able to develop their skills, complete their training and find good, well-paying jobs.
As part of the first project titled Elevated Bridge Work, Local 625 will receive close to $118,000 to purchase up-to-date training equipment including two hydro mobile mast climbing scaffolds, an articulating boom, a scissor lift and a swing stage. By getting trained on the modern equipment, apprentices will boost their skills sets and get certified to take up jobs in major construction projects such as the new Gordie Howe Bridge.
Through the second project titled Utility Training – Connect our Community, Local 625 will receive close to $95,000 for the purchase of a trailer, a line locator, a compactor, a compaction metre, an excavator and a Bob Cat. Apprentices will benefit from training on the new equipment and become ready for in-demand and well-paying jobs in the construction craft worker and cement finisher trades.
As Canada's economy continues to grow and create good, well-paying jobs, the Government is committed to ensuring that all Canadians share in and benefit from this success.